SpringboardNYC taught me to a be a working actor in New York City!
Courtney M., SBNYC Alum Oberlin College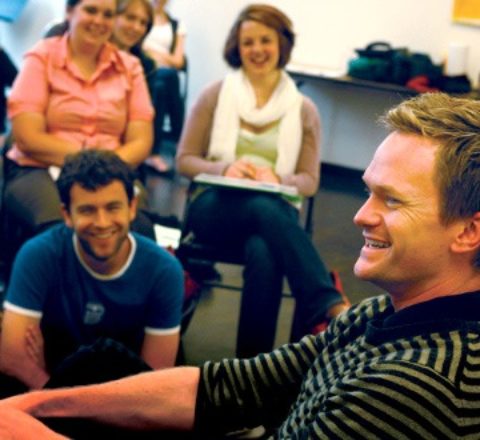 Immersing actors in New York's theatre scene, paving the way for creative work-life success
About SpringboardNYC
SpringboardNYC brings college actors into the epicenter of American theatre—New York City—in an intensive program that connects young talent to the knowledge, tools and connections necessary to become part of New York's vital theatre culture.
An in-depth program happening in parallel to the Tony Awards, Springboard is taught by renowned members of the contemporary theatre. The Springboard curriculum includes workshops, seminars, master classes, and access to important work on Broadway and off. Springboard connects students to inside knowledge and industry players, creating major opportunities for young actors that put them at a professional advantage.
Springboard forges connections between fellow actors at start of their career, building a community of contemporaries for those new to New York and theatre's professional realm. Here, students create their own community and theatre network built on the friendships they make. The program also serves as most young actors first direct contact with The Wing, initiating a lifetime connection to the organization and its extensive support.
SpringboardNYC is supported in part by an award from the National Endowment for the Arts. Scholarship funds are provided by the Michael Stewart Foundation.
The Program
The curriculum of SpringboardNYC includes a series of workshops, seminars, master classes, and field trips to theatres – both downtown and on Broadway. The purpose of the program is to provide students with insight into the business of theatre while connecting them to a network of working professionals and colleagues. To get a better idea of the kind of time you will spend with us, take a look at our schedule from 2019.
FAQ
Who is eligible for the program?

The program is open to college students. Preference is given to juniors and seniors who are graduating in the year in which they apply.

To be notified when applications are available and to receive other SpringboardNYC updates, please join our email list. In the meantime, watch our free virtual Master Classes on YouTube with past artists Cynthia Erivo, David Henry Hwang, and more! To join live Master Classes, be on the look out on our social media for RSVP announcements.

What does the application process entail?

Your application will include a short personal statement, and a teacher recommendation. Additionally, we require a video audition of two contrasting pieces. Musical Theatre program candidates should sing a short up-tempo and ballad selection. General Performance program candidates should submit short (less than 2 minutes) contrasting monologue selections.

Are there scholarships available?

Yes. The American Theatre Wing will award a limited number of need-based scholarships to accepted per Springboard Class cycle to students who qualify. Applicants must indicate whether they are applying for tuition scholarship aid and include additional required information when they submit their application. All information is confidential. Keep in mind, the scholarship committee considers the applications for students of need as they are accepted to the program. We suggest you apply early, as scholarship funds are limited.

When will I be notified if I have been accepted?

Please stay tuned for additional information!

What is the structure of the two week program?

Please stay tuned for additional information! To look at how our 2019 program was structured, please click here.

Where does SBNYC take place?

Most of the SpringboardNYC work sessions will take place in the Theatre District. The studios where sessions will take place are accessible by many bus and subway lines. Additional activities throughout the two-week period will take us to various theatres and rehearsal spaces around the city, many within walking distance.

I don't sing. Is this program still for me?

Yes. SpringboardNYC participants will choose their focus: general performance or musical theatre performance. In both cases, in-depth on-your-feet work will be done with influential working artists to help perfect your audition presentation. If you have questions about which track to select, call the ATW office at 212-765-0606 and we'll help determine the best choice for you.

I'm from a small town and I've never been to New York City. How do I know if New York is the place for me?

People come from all over the country to attend SpringboardNYC. One of the main reasons we created the program was to provide a community and context through which to enter the city, while giving you the tools to understand the realities and opportunities of life in New York. You may discover NYC is not for you, or you may fall in love with it, but one thing is certain: by the end of the program, you will know if the city is the right place for you to call home. During these two weeks you'll decipher the city, meet the working artists that form the New York theatre community and learn skills that will give you an advantage over the many others making their journey here. But you'll do it all alongside friends and colleagues who are going through the same thing you are. And most importantly, we'll help you do it safely. You'll truly discover New York.

The American Theatre Wing will help retain dormitory housing for SpringboardNYC students. This will be available on a first-come, first-served basis for students who do not have family or friends with whom to stay. Please stay tuned for additional information on housing rates provided via SpringboardNYC.

What does my program fee cover?

The program fee covers a two-week, jam-packed schedule of workshops, master classes, seminars, "meet & greets," and field trips as well as a two-week unlimited Metrocard (public transportation pass). It also includes the purchase of tickets to 5-7 Broadway and/or off-Broadway shows and/or special events, including the dress rehearsal for The Tony Awards. Special Question and Answer "talkbacks" with cast members will be held after many shows. The 2019 program fee was $1800, although please stay tuned for additional fee updates. Partial and full need-based tuition scholarships are available to accepted students.
Contact Us
The American Theatre Wing welcomes your questions, opinions and concerns.
Support SpringboardNYC
SpringboardNYC is made possible through the generosity of our donors.  Here are some ways your support could enrich this program:
$5,000 could sponsor a SpringboardNYC student who demonstrates financial need
$2,500 could send the SpringboardNYC class to a Broadway show
$1,000 could pay for studio space for SpringboardNYC for 1 full day
$500 could underwrite a "Meet the Artist" session for the entire SpringboardNYC class
A donation in any amount helps a talented young artist make the leap from college to career
To support this program, simply click on the button below and select "SpringboardNYC" after you enter your name and address, or call us at 212-765-0606.