It's nice to know I'm not alone in this big city!
Joshua Kelley, TIN Alum Pace University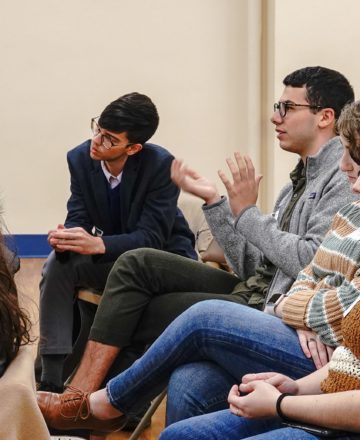 Professional and educational advancement through The Wing's expert network
About The Network
The Network provides emerging and developing theatre professionals advanced education, networking opportunities, and tools for career advancement within a supportive creative community.
New York City is full of theatre professionals, each with their own vision for creating or supporting important work. The Network connects students, interns, and young professionals to senior players, theatre companies, and prestigious organizations across the nation. Our network provides exclusive events, seminars, panels, and networking opportunities, fostering a community for building relationships with peers and professionals.
The Network is currently hosting all panel discussions via IG Live.
What to Expect
The day of the meeting, you'll head to Instagram to join our IG Live. Be prepared to take notes!
Only panelists will be on screen, but you'll have the chance to ask questions LIVE via the chat.
Once you RSVP, you'll receive an email and/or a text message on the day of the Live.
Future Meetings:
Audience Engagement & Outreach
Tuesday, December 13th at 2pm ET on Instagram Live
Dawn V. Eskridge (Patron Services Manager, Synchronicity Theatre – Atlanta, GA) and Samara Safarik (Audience & Donor Relations Manager, Forward Theater Company – Madison, WI) compare their experiences building and maintaining audiences in their communities, and the unusual paths that brought them into professional theatre administration.
About the Panelists
Dawn V. Eskridge For the past two years, Dawn has served as the Production Manager for the Southeast Emmy Award-winning High School Musical Theatre Awards: The Shuler Hensley Awards, produced by the ArtsBridge Foundation in Atlanta, Georgia. Previous roles include Production Manager for the Department of Theatre and Performance Studies at Kennesaw State University and Director of Ticketing for Victory Gardens Theater in Chicago, Illinois. With over 20 years of diverse theatre, education, and administration experience, her core competencies include Project and Event Management, Strategic Planning, Program Creation and Management, Staff and Student Development and Training, Budget Management, and Data Analysis.
Samara Safarik's 25-year career as a theater maker spans from the stage to administration. As an AEA and SAG/AFTRA actor, she's worked in Chicago, Denver, Los Angeles and Madison in theater, film and television, notably as a core company member at Will Geer's Theatricum Botanicum in LA for ten years. As an arts administrator, her work in casting, internship coordination, and development eventually lead her to Forward Theater Company, a professional SPT theater company in Madison, WI, where she serves as Director of Audience Engagement. She graduated from Northwestern University with a BA in Theater and is the mama to two feisty daughters.
Be the first to know about future Network meetings and American Theatre Wing events:
Watch the Latest Webinar On Demand
You can watch past Network meetings, in their entirety,  on our official YouTube channel and on our Instagram Account
Join the Next IG Live
The Network will be hosting panel discussions via Zoom webinar. To learn more about attending Network meetings and events, subscribe to our newsletter.
Past Network Topics have included:
Community Outreach Programming
Press & Publicity
Marketing
Immersive Theatre
Company Management
Theatre Education Programming for Schools
Development – Individual Giving
Pitch Perfect: How to Ace the Job Interview
Social Media and Audience Engagement
Producing
Working in Casting
Licensing & Theatrical Rights
New Work Development
Production Management
Funding Performance Arts
The Network is supported in part by an award from the National Endowment for the Arts.
Contact Us
The American Theatre Wing welcomes your questions, opinions and concerns.
Support The Network
The Network is made possible through the generosity of our donors. Here are some ways your support could enrich this program:
$10,000 can sponsor the program for an entire season
$5,000 could pay for the annual Theatre Internship Fair
$2,500 could send these emerging theatre leaders to a Broadway show and talkback
$1,000 could underwrite a semi-annual networking mixer
$500 could sponsor a meeting, including a panel discussion and pizza dinner
A donation in any amount helps develop the next generation of theatre industry leaders
To support this program, simply click on the button below and select "The Network for Emerging Leaders in the Theatre" after you enter your name and address, or call us at 212-765-0606.