The Network for Emerging Leaders in the Theatre
It's nice to know I'm not alone in this big city!
Joshua Kelley, TIN Alum Pace University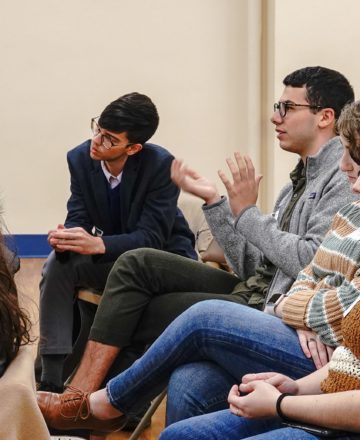 Professional and educational advancement through The Wing's expert network
About The Network
The Network provides emerging and developing theatre professionals advanced education, networking opportunities, and tools for career advancement within a supportive creative community.
New York City is full of theatre professionals, each with their own vision for creating or supporting important work. The Network connects students, interns, and young professionals to senior players, theatre companies, and prestigious organizations across the nation. Our network provides exclusive events, seminars, panels, and networking opportunities, fostering a community for building relationships with peers and professionals.
The Network is currently hosting all panel discussions via Zoom webinar.
Be the first to know about future Network meetings and American Theatre Wing events:
Next Meeting: Leading the Way – Executive Directors, July 28, 2021 at 5PM ET
EXECUTIVE DIRECTORS are the leaders of non-profit organizations managing day-to-day operations, setting the vision, shaping the future, and steering their team to execute the mission of the organization. They must have a clear vision, implement a strategic plan, and effectively communicate that vision to their staff and Board of Directors, amongst a multitude of other responsibilities. These leadership skills aren't developed overnight, and the pathways to this role often consist of a wide range of experiences, supportive mentors, and access to tools and resources. Join us as our panelists share the insight they have gained from their unique career paths and discover what steps you can take to become a leader in arts administration!
Our Panelists
Jennifer Bielstein, Executive Director, American Conservatory Theater
Jennifer Bielstein (she/her) is the executive director of American Conservatory Theater (A.C.T.). She serves on the board of Theatre Forward, as a member of the International Women's Forum and the San Francisco Mayor's Economic Recovery Task Force, and is the immediate past-president of the League of Resident Theatres (LORT) and founding chair of its Equity, Diversity, and Inclusion Committee. Prior to coming to A.C.T. Bielstein was the managing director of the Guthrie Theater in Minneapolis, Actors Theatre of Louisville, and Writers Theatre in Chicago. She also worked for Steppenwolf Theatre, About Face Theatre, Northlight Theatre, and the Lincoln Park Zoo, and served on the boards of the League of Chicago Theatres, the Arts and Cultural Attractions Council, and other civic boards. She has received the Center for Nonprofit Excellence's Pyramid Award of Excellence in Leadership and is a graduate of the University of North Carolina at Chapel Hill and Bellarmine University.
Tiffani Gavin, Executive Director, Eugene O'Neill Theater Center
Tiffani Gavin brings more than 25 years of experience in theater administration and producing to her new position as Executive Director of the Eugene O'Neill Theater Center. After beginning her career in general management at The Public Theater in NY and as a company manager at Blue Man Group, she went on to hold leadership positions in both nonprofit and commercial theater organizations, including Clear Channel Entertainment and the American Repertory Theater. She's been the Manager of the Marquis Theatre on Broadway and has managed productions such as the National Tour of The Phantom of the Opera. As an Executive Producer for Clear Channel Entertainment and later as the General Manager/VP of Production at Martian Entertainment she commissioned and developed new work by emerging artists across the U.S. and internationally. While producing at Clear Channel, her broad portfolio included Broadway and off-Broadway productions as well as national tours. Among them were Ragtime (National Tour), The Producers (Broadway, National Tour), Hairspray (Broadway, National Tour), Sweet Charity (2005 Broadway Revival), Gumboots (National Tour, European Tour), Squeezebox (Off-Broadway), and Contact (National Tour). She was also the Sr. Director of Professional and International Licensing for Theatrical Rights Worldwide where she acquired and licensed secondary performing rights for musicals such as Monty Python's Spamalot and The Color Purple. Tiffani is a native of East Norriton, PA, and has a B.A. from Brown University in both Sociology as well as in Modern Culture and Media with a focus in Mass Media and Cultural Representation.
Sheila Lewandowski, Executive Director, Chocolate Factory Theater
Sheila Lewandowski is the Executive Director and a co-founder of The Chocolate Factory Theater. In addition to her work at The Chocolate Factory Sheila is a community organizer and advocate for artists, and works to increase awareness of the importance of the arts in policy making in everything from education to housing to economic development and in regards to labor on a local, regional, state and national level. She is on the Executive Committee of Community Board 2 in Queens and chairs the Transportation Committee where she is known for her work for equity, accessibility and equality in land use and zoning laws, housing, development, access to resources and increasing community engagement. Sheila is a member of the CAN Steering Committee of Nonprofit New York and has been a guest professor at the Academy of Theater & Dance in Amsterdam and Marymount Manhattan College in NYC. She has been a guest speaker and panelist on topics ranging from Nonprofit Management to community organizing and development for Van Alen Institute, Dance NYC, LIC Partnership, WNYC among others.
Teresa Coleman Wash, Executive Artistic Director,  Bishop Arts Theatre Center
is a producer, writer, and founding artistic director for the Bishop Arts Theatre Center whose mission is to cultivate a diverse and vibrant arts community while creating opportunities for local and emerging artists through performance and education. She is the 2019 recipient of the Theater Communications Group's prestigious Peter Zeisler Memorial Award for artistic excellence and in 2018, she received the National Guild for Community Arts Education's Milestone Award. Wash is a National Arts Strategies and Dallas Public Voices fellow who studied at Harvard Business School. She holds an MA in Arts Management from Goucher College and a BBA in Business Administration from Albany State University. Mrs. Wash has also earned several Irma P. Hall Awards including the 2020 Irma P. Hall Theatrical Excellence Medal.  Teresa was elected to the Dramatists Guild of America Council in 2017 representing the Southern region where she also served on the steering committee.
Our Moderator
Heather Hitchens, President & CEO – American Theatre Wing
Heather A. Hitchens is a nationally recognized arts leader with nearly 30 years of arts administration, policy, and program development experience.

Hitchens began her tenure as President and CEO of the American Theatre Wing in 2011. As the Wing's chief executive officer, she is charged with maintaining its brand of excellence in the Tony Awards as well as overseeing and shaping its other vital grant making, professional development, educational, and media programs. All of these programs are focused on advancing theatre artists and professionals at ALL stages on the stage and behind the scenes. During her tenure at the Wing, the Organization's budget has tripled, and its investment in programs has more than tripled. The Organization and Hitchens herself has also earned two Emmy nominations for the Wing's "Working in the Theatre" docu-series.

Hitchens came to the Wing after a four-year term as Executive Director of the New York State Council on the Arts (NYSCA), the largest state arts agency in the country. An appointee of Governor Eliot Spitzer, Hitchens oversaw the distribution of over $123 million in grants to more than 2,000 New York State organizations in every artistic discipline while at NYSCA. She also fostered closer collaboration and partnerships between the arts and other sectors including tourism, economic development, and parks, and in collaboration with a number of public and private funding sources, launched the New York State Cultural Data Project, which is developing more comprehensive and reliable data about the impact of the arts in the state.

Prior to her leadership of NYSCA, Hitchens served as President of the renowned national arts service organization Meet The Composer for nearly a decade. There, she served as a passionate advocate for composers revitalizing the organization's artistic programs and strengthening its financial standing by establishing a multi-million dollar endowment fund and fostering a manyfold increase in individual giving. Hitchens also served as CEO of the Delaware Symphony Orchestra and worked in the development department of the American Music Theatre Festival.

Ms. Hitchens currently serves as an Adjunct Professor at Baruch College in the M.A. in Arts Administration program, and at SUNY New Paltz in the undergraduate Theatre Arts program. She holds a M.S. in Arts Administration from Drexel University and a B.M. in Percussion/Music Business from DePauw University.
What to Expect
The day of the meeting, you'll join a Zoom Webinar with

live captions

. Be prepared to take notes!
Only panelists will be on screen, but you'll have the opportunity to ask questions LIVE via Q&A and the chat.

Once you register, you'll receive an email from us with Zoom details.
Connect with Industry Peers
After the panel, join us for a 30-minute networking and socialization session where attendees can connect with each other. We know it's difficult to network at this moment, but we're excited to create this virtual space via Zoom breakout rooms. At the end of the meeting, we'll chat the zoom link for anyone who wants to join. Come pop in and meet fellow colleagues from around the country!
Watch the Latest Webinar On Demand
You can watch this and past webinars, in their entirety, on our official YouTube channel.
Stage Managers play a critical role behind the scenes in every theatrical production. They maintain and execute the director's vision, protecting the artistic integrity of the show from rehearsals all the way through a show's run. They are masters of logistics, communication, time-management, and problem solving – all while working under high pressure with grace. Our panelists share their career advice and organizational strategies on what it takes to be an effective stage manager, and how aspiring theatre professionals can access opportunities in this coveted role.
Join the Next Virtual Webinar
The Network will be hosting panel discussions via Zoom webinar. To learn more about attending Network meetings and events, subscribe to our newsletter.
Past Network Topics have included:
Community Outreach Programming
Press & Publicity
Marketing
Immersive Theatre
Company Management
Theatre Education Programming for Schools
Development – Individual Giving
Pitch Perfect: How to Ace the Job Interview
Social Media and Audience Engagement
Producing
Working in Casting
Licensing & Theatrical Rights
New Work Development
Production Management
The Network is supported in part by an award from the National Endowment for the Arts, and by public funds from the New York City Department of Cultural Affairs in partnership with the City Council.
The A.R.T./New York Internship Fair In Partnership with the American Theatre Wing
The  A.R.T./New York Theatre Internship Fair, in partnership with American Theatre Wing, is an opportunity for students interested in a life in the theatre to meet and greet with over 60 nonprofit theatre companies in New York City. All theatre companies present at the fair are seeking interns to support their work in fields such as production, marketing, fundraising, general management, and more. While companies are offering internships for the upcoming Summer and Fall semesters, students can also find more immediate placement.
The Alliance of Resident Theatres / New York (A.R.T./New York) is the service and advocacy organization for over 350 not-for-profit theatres located throughout New York City.
Contact Us
The American Theatre Wing welcomes your questions, opinions and concerns.
Support The Network
The Network is made possible through the generosity of our donors. Here are some ways your support could enrich this program:
$10,000 can sponsor the program for an entire season
$5,000 could pay for the annual Theatre Internship Fair
$2,500 could send these emerging theatre leaders to a Broadway show and talkback
$1,000 could underwrite a semi-annual networking mixer
$500 could sponsor a meeting, including a panel discussion and pizza dinner
A donation in any amount helps develop the next generation of theatre industry leaders
To support this program, simply click on the button below and select "The Network for Emerging Leaders in the Theatre" after you enter your name and address, or call us at 212-765-0606.