It's nice to know I'm not alone in this big city!
Joshua Kelley, TIN Alum Pace University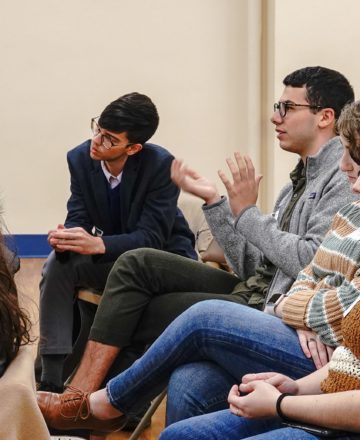 Professional and educational advancement through The Wing's expert network
About The Network
The Network provides emerging and developing theatre professionals advanced education, networking opportunities, and tools for career advancement within a supportive creative community.
New York City is full of theatre professionals, each with their own vision for creating or supporting important work. The Network connects students, interns, and young professionals to senior players, theatre companies, and prestigious organizations across the nation. Our network provides exclusive events, seminars, panels, and networking opportunities, fostering a community for building relationships with peers and professionals.
The Network is currently hosting all panel discussions via IG Live.
What to Expect
The day of the meeting, you'll head to Instagram to join our IG Live. Be prepared to take notes!
Only panelists will be on screen, but you'll have the chance to ask questions LIVE via the chat.
Once you RSVP, you'll receive an email and/or a text message on the day of the Live.
Future Meetings:
Producing: Non-Profit vs. Commercial
Tuesday, October 11 at 2pm ET on Instagram Live
Iyvon E. (Director of Artistic Programs, Signature Theatre) and Cynthia J. Tong (Associate Producer, Tom Kirdahy Productions) will share their experiences leading the development of new works and mounting full productions on and off Broadway, and how their roles differ in the non-profit and commercial sectors.
About the Panelists
Iyvon E.
(she/her) is an award-winning Nigerian-American creative producer, dramaturg, and administrator from Brooklyn, NY. She is the Artistic Director of 
The Parsnip Ship
, a new play development company that features a radio-play platform amplifying underproduced playwrights. Additionally, she is the Director of Artistic Programs at Signature Theatre (NYC). Iyvon is a recipient of the Fulbright International Scholarship and Gilman International Scholarship (both to Italy) and the 2019 Mark O'Donnell Prize recipient. A W.P. 2020 – 2022 Producers Lab member and an Affiliate Dramaturg with Beehive Dramaturgy Studio. B.A. Brandeis University. M.A. Baruch College (CUNY) Arts Administration. @iamiyvon @theparsnipshipNY
Cynthia J. Tong (she/her) is a creative producer working on and off Broadway. She is Associate Producer at Tom Kirdahy Productions (The Piano Lesson, New York, New York, The Inheritance [Tony Award, Best Play], Little Shop of Horrors) and a founding member of The Industry Standard Group, a BIPOC-led organization innovating Broadway by creating new pathways to investment and producing. Co-producing credits include The Piano Lesson and the Hadestown National Tour.
Highlights from past independent producing projects include the Drama League-nominated A Thousand Ways by 600 Highwaymen, NYCLU's Sing Out for Freedom benefit (2020 & 2021), and LORDES (New Ohio Theatre, 2019). She is an Artist Ambassador for the NYCLU. Prior to landing in theatre, Cynthia worked in retail, childcare, education, fundraising, and pharmaceutical advertising. Her artistic roots are in dance. B.A. in Sociology, Wesleyan University. Originally from Rancho Palos Verdes, CA.
Theatrical Marketing & Social Media
Tuesday, October 25 at 2pm ET on Instagram Live
Quincy Brown (Social Media Manager, RPM) and Sara Robillard (Social Media Strategist, Serino Coyne) will discuss the various methods of reaching new audiences on Broadway, and how their love of social media led them to the ever-changing landscape of communications.
About the Panelists
Quincy Brown (he/him) currently works as a Social Media Manager at RPM, a full-service advertising agency servicing the live entertainment industry and focusing primarily on Broadway. Prior to his time at RPM, he worked as a social media manager at the business media company Morning Brew and the Marketing Coordinator at Broadway.com/BroadwayBox.com. He earned a B.A. in Public Relations and Advertising and an M.A. in Integrated Marketing Communication from Marist College. He also co-hosts a musical theatre interview podcast called Sentimental Men.
Sara Robillard currently leads social strategy for Broadway and theatrical clients at Serino Coyne, an advertising agency specializing in live entertainment.
Prior to joining Serino Coyne, she was part of the marketing team at New York City Center where she created digital content for Encores!, Fall for Dance and other institutional programming. Over the years, she's also worked at Audience Rewards, SpotCo and the Blue Man Group, and has produced original works at festivals throughout the city including NYFringe 2018.
Sara earned a B.S. in Advertising and B.A. in Theatre and Dance from The University of Texas at Austin.
Becoming an Agent
Tuesday, November 8 at 2pm ET on Instagram Live
Skyler Gray (The Gersh Agency) and Sheri Talkovsky (Buchwald) will compare their beginnings in the theatre industry and the discovery of their passion for championing and representing new and established artists.
About the Panelists
Sheri Talkovsky (she/her) is a New York based agent that has spent her career developing a roster of exciting actors and fresh new faces. Talkovsky, who has been with Buchwald for the past 9 years, began her time in the New York Emerging Talent department, where she was an instrumental part of re-launching the department in 2014. In 2016 she shifted focus to adult theatrical clients in the New York Theatrical department where she has passionately developed a list of breakout clients in TV/Film and Theatre mediums. Sheri has a background and appreciation for the theater and a degree in Musical Theatre from Pace University. She approaches clients from an "Artists First" prospective and has infused her contemporary hands on style into the Buchwald New York office. Prior to her time at Buchwald, Sheri worked at bi-costal agency KMR and had explored a variety of internships in multiple areas of the New York entertainment industry.
Skyler Gray (he/him) is a Theater Agent at The Gersh Agency representing playwrights, directors, composers, choreographers, designers, music directors and multi-hyphenate artists. Prior to becoming an agent he served as the Director of New Play Development at Victory Gardens Theater in Chicago, IL and the Literary Manager at the Alley Theatre in Houston, TX. He has also developed new work with New Harmony Project, Williamstown Theatre Festival, National Black Theatre, South Coast Repertory, Chance Theater, Rogue Artists Ensemble, UC Irvine, Columbia University, WildWind Lab, Echo Theater Company, Artists at Play and Rivendell Theatre Ensemble on projects by Rob Askins, Lee Edward Colston III, Boo Killebrew, Antoinette Chinonye Nwandu, Selina Fillinger, Bekah Brunstetter, Ike Holter, Suzanne Vega, Duncan Sheik, Lawrence Wright, liliana padilla, Karen Hartman, Jenny Connell Davis, among others. He has also worked in the literary departments at South Coast Repertory, Williamstown Theatre Festival and William Morris Endeavor in New York, as well as serving as the Artistic Director of Children's Musical Theaterworks and The Underground @ CMT. As a producer and curator of new work he helped create the Alley All New initiative at the Alley Theatre, produced the Pacific Playwrights Festival at South Coast Repertory for five seasons, and helmed Victory Gardens' Ignition Festival for two seasons. Gray holds a B.A. in Theater from the University of California, Irvine with Honors in Directing.
Be the first to know about future Network meetings and American Theatre Wing events:
Watch the Latest Webinar On Demand
You can watch past Network meetings, in their entirety, on our official YouTube channel.
Join the Next IG Live
The Network will be hosting panel discussions via Zoom webinar. To learn more about attending Network meetings and events, subscribe to our newsletter.
Past Network Topics have included:
Community Outreach Programming
Press & Publicity
Marketing
Immersive Theatre
Company Management
Theatre Education Programming for Schools
Development – Individual Giving
Pitch Perfect: How to Ace the Job Interview
Social Media and Audience Engagement
Producing
Working in Casting
Licensing & Theatrical Rights
New Work Development
Production Management
The Network is supported in part by an award from the National Endowment for the Arts.
Contact Us
The American Theatre Wing welcomes your questions, opinions and concerns.
Support The Network
The Network is made possible through the generosity of our donors. Here are some ways your support could enrich this program:
$10,000 can sponsor the program for an entire season
$5,000 could pay for the annual Theatre Internship Fair
$2,500 could send these emerging theatre leaders to a Broadway show and talkback
$1,000 could underwrite a semi-annual networking mixer
$500 could sponsor a meeting, including a panel discussion and pizza dinner
A donation in any amount helps develop the next generation of theatre industry leaders
To support this program, simply click on the button below and select "The Network for Emerging Leaders in the Theatre" after you enter your name and address, or call us at 212-765-0606.