The Network for Emerging Leaders in the Theatre
It's nice to know I'm not alone in this big city!
Joshua Kelley, TIN Alum Pace University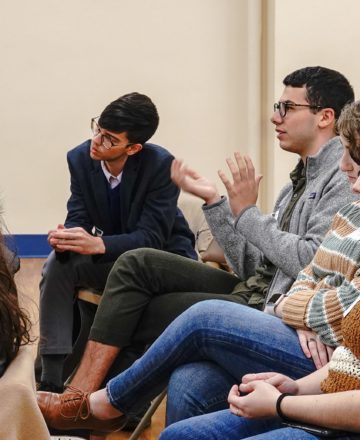 Professional and educational advancement through The Wing's expert network
About The Network
The Network provides emerging and developing theatre professionals advanced education, networking opportunities, and tools for career advancement within a supportive creative community.
New York City is full of theatre professionals, each with their own vision for creating or supporting important work. The Network connects students, interns, and young professionals to senior players, theatre companies, and prestigious organizations across the nation. Our network provides exclusive events, seminars, panels, and networking opportunities, fostering a community for building relationships with peers and professionals.
The Network is currently hosting all panel discussions via Zoom webinar. To learn more about attending Network meetings and events, please contact Melissa Cabrero at melissa@americantheatrewing.org.
Next Meeting: TBA
What to Expect
The day of the meeting, you'll join a Zoom Webinar with

live captions

. Be prepared to take notes!
Only panelists will be on screen, but you'll have the opportunity to ask questions LIVE via Q&A and the chat.
Once you RSVP, you'll receive an email from us with Zoom details closer to the meeting date.
Watch the Latest Webinar On Demand
You can watch this and past webinars, in their entirety, on our official YouTube channel.
The American Theatre Wing is excited to invite you to Not Going Back to Normal – Moving Forward, the second in a series of frank and solutions-focused conversations about equity in the American Theatre.
Moving Forward will take a deep dive into the most recent Asian American Performers Action Coalition (AAPAC) Visibility Report, which covers employment statistics by race for actors, playwrights, composers, librettists and directors for the 2017-18 season for all of Broadway and the 18 largest non-profit theatre companies in New York City.
Moderated by ATW trustee Binta Niambi Brown, the panel includes Pun Bandhu and Julienne Hanzelka Kim of AAPAC, Saheem Ali of The Public Theater, Rashad V. Chambers of the Industry Standard Group, and Stephanie Ybarra of Baltimore Center Stage. Panelists will discuss the report's findings and talk about existing power structures in theater, sharing the challenges and opportunities to creating systemic change.
Join the Next Virtual Webinar
The Network will be hosting panel discussions via Zoom webinar. To learn more about attending Network meetings and events, please contact Melissa Cabrero at melissa@americantheatrewing.org.
Past Network Topics have included:
Community Outreach Programming
Press & Publicity
Marketing
Immersive Theatre
Company Management
Theatre Education Programming for Schools
Development – Individual Giving
Pitch Perfect: How to Ace the Job Interview
Social Media and Audience Engagement
Producing
Working in Casting
Licensing & Theatrical Rights
New Work Development
Production Management
The Network is supported in part by an award from the National Endowment for the Arts, and by public funds from the New York City Department of Cultural Affairs in partnership with the City Council.
The A.R.T./New York Internship Fair In Partnership with the American Theatre Wing
The  A.R.T./New York Theatre Internship Fair, in partnership with American Theatre Wing, is an opportunity for students interested in a life in the theatre to meet and greet with over 60 nonprofit theatre companies in New York City. All theatre companies present at the fair are seeking interns to support their work in fields such as production, marketing, fundraising, general management, and more. While companies are offering internships for the upcoming Summer and Fall semesters, students can also find more immediate placement.
The Alliance of Resident Theatres / New York (A.R.T./New York) is the service and advocacy organization for over 350 not-for-profit theatres located throughout New York City.
Contact Us
The American Theatre Wing welcomes your questions, opinions and concerns.
Support The Network
The Network is made possible through the generosity of our donors. Here are some ways your support could enrich this program:
$10,000 can sponsor the program for an entire season
$5,000 could pay for the annual Theatre Internship Fair
$2,500 could send these emerging theatre leaders to a Broadway show and talkback
$1,000 could underwrite a semi-annual networking mixer
$500 could sponsor a meeting, including a panel discussion and pizza dinner
A donation in any amount helps develop the next generation of theatre industry leaders
To support this program, simply click on the button below and select "The Network for Emerging Leaders in the Theatre" after you enter your name and address, or call us at 212-765-0606.