The Network for Emerging Leaders in the Theatre
It's nice to know I'm not alone in this big city!
Joshua Kelley, TIN Alum Pace University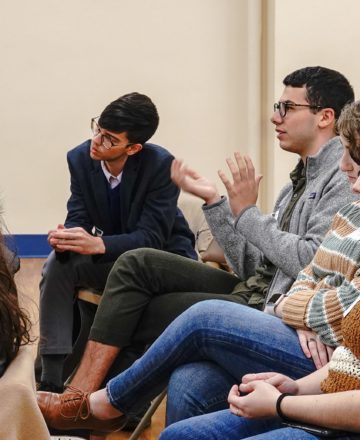 Professional and educational advancement through The Wing's expert network
About The Network
The Network provides emerging and developing theatre professionals advanced education, networking opportunities, and tools for career advancement within a supportive creative community.
New York City is full of theatre professionals, each with their own vision for creating or supporting important work. The Network connects students, interns, and young professionals to senior players, theatre companies, and prestigious organizations across the nation. Our network provides exclusive events, seminars, panels, and networking opportunities, fostering a community for building relationships with peers and professionals.
The Network is currently hosting all panel discussions via Zoom webinar.
Next Meeting: Pathways to a Career as an Agent, December 2 at 4:30PM ET
Connecting talent with opportunity, AGENTS play an integral role in the life cycle of artists and the overall ecosystem of theatre. For the aspiring theatre professional who loves to consume art and has an eye for successful work, this career may be a great fit. But how do you become an agent? If you possess transferable skills like being creative, excellent communication, or work well under pressure, you already have some of the qualities needed for the job. To learn more, join us for our next Network meeting as panelists discuss their career journeys and share additional insight on what it takes to be a successful agent.
Our Panelists:
Ben Sands is an agent and partner in the New York office of Artists & Representatives. He has been with the company for 10 years, and was an agent at another NY agency for another 5 years before that. Artists & Representatives represents actors bicoastally with clients currently on Broadway, off-broadway, as series regulars on every major television and streaming network and in lead roles roles in many features from big budget franchise films to independent features. In addition to his work as an agent, he has taught a "Business of the Business" class to actors and aspiring industry professionals across the country at numerous prestigious Universities. 
Kevin Lin is a talent and literary agent at leading entertainment and sports agency Creative Artists Agency (CAA), where he represents top actors, writers, directors, composers and choreographers, including Leslie Odom, Jr. Matthew López, David Henry Hwang, Emilio Sosa, Kimberlé Crenshaw, Kyle Hanagami, Celine Song, Dina Shihabi, Tituss Burgess, James Alsop, Ashley Park, Jordan E. Cooper, Anthony Ramos, Danielle Brooks, Teyonah Parris, and Darren Criss. He is also Co-Head of Cultural Business Strategy, working to strengthen company wide strategies that maximize creative opportunities and business growth for the agency's diverse clients and build corporate culture best practices. Lin began his career at CAA as an intern in 2012.
Di Glazer is a partner and Co-Head of the Theater Department at ICM Partners. She began her tenure as an assistant in 2011 and quickly rose to become the youngest department head at ICM and the youngest theater department head across any agency. She has been featured as part of Variety's New Leaders and New Power of New York issues.
Glazer's clients include Tony Award winners Rachel Chavkin, Justin Peck, Idina Menzel, and Kelli O'Hara as well as Theresa Rebeck, Sarah DeLappe, Halley Feiffer, Antoinette Nwandu, Danya Taymor, Suzanne Heathcote, Hannah Bos & Paul Thureen, PigPen Theater Company, Lauren Yee and Martin Zimmerman.
Our Moderator
Erik Forrest Jackson
Erik is a playwright, musical bookwriter and novelist. Raised in Texas and now living in Harlem, he is the recipient of residency grants/fellowships at the Helene Wurlitzer Foundation, the Chulitna Lodge Research Institute, the Johnny Mercer Writers Grove at Goodspeed Musicals, and Monson Arts. Erik adapted his award-winning comic drama LIKE A BILLION LIKES into the new musical MISTY MAKES IT BETTER (lyrics by Jill Abramovitz, music by Brad Alexander). His other musicals include BREAKING UP IS HARD TO DO, featuring the songs of Neil Sedaka (co-book Ben Winters, arrangements by Tom Kitt), and the upcoming adaptation of the Warner Bros. classic CHRISTMAS IN CONNECTICUT (co-book Patrick Pacheco, music by Jason Howland, lyrics by Amanda Yesnowitz). Five of Erik's plays premiered Off Broadway, and he adapted the beloved TV series CHEERS for a live stage event. He's also the author of the MUPPETS MEET THE CLASSICS humor series for Penguin Books and Disney. Erik has proudly served on the Advisory Committee of the American Theatre Wing for a decade. erikforrestjackson.com
What to Expect
The day of the meeting, you'll join a Zoom Webinar with

live captions

. Be prepared to take notes!
Only panelists will be on screen, but you'll have the opportunity to ask questions LIVE via Q&A and the chat.

Once you register, you'll receive an email from us with Zoom details.
Connect with Industry Peers
After the panel, join us for a 30-minute networking and socialization session where attendees can connect with each other. We know it's difficult to network at this moment, but we're excited to create this virtual space via Zoom breakout rooms. At the end of the meeting, we'll chat the zoom link for anyone who wants to join. Come pop in and meet fellow colleagues from around the country!
Be the first to know about future Network meetings and American Theatre Wing events:
Watch the Latest Webinar On Demand
You can watch this and past webinars, in their entirety, on our official YouTube channel.
Company Managers are masters of logistics. The nature of their job requires them to wear many hats, be detail-oriented, communicate with a wide range of people, and work well under pressure. Organizing payroll and rehearsals, arranging transportation and housing for cast and crew, and negotiating contracts are among the many responsibilities and tasks Company Managers juggle daily. If you're the type of person who loves providing essential administrative support and being around creative energy, a career in company management may be a good fit for you! Curious about the pathways to this role? Watch as our panelists share their career advice on what it takes to be an effective company manager, and how aspiring theatre professionals can access opportunities.
Join the Next Virtual Webinar
The Network will be hosting panel discussions via Zoom webinar. To learn more about attending Network meetings and events, subscribe to our newsletter.
Past Network Topics have included:
Community Outreach Programming
Press & Publicity
Marketing
Immersive Theatre
Company Management
Theatre Education Programming for Schools
Development – Individual Giving
Pitch Perfect: How to Ace the Job Interview
Social Media and Audience Engagement
Producing
Working in Casting
Licensing & Theatrical Rights
New Work Development
Production Management
The Network is supported in part by an award from the National Endowment for the Arts.
The A.R.T./New York Internship Fair In Partnership with the American Theatre Wing
The  A.R.T./New York Theatre Internship Fair, in partnership with American Theatre Wing, is an opportunity for students interested in a life in the theatre to meet and greet with over 60 nonprofit theatre companies in New York City. All theatre companies present at the fair are seeking interns to support their work in fields such as production, marketing, fundraising, general management, and more. While companies are offering internships for the upcoming Summer and Fall semesters, students can also find more immediate placement.
The Alliance of Resident Theatres / New York (A.R.T./New York) is the service and advocacy organization for over 350 not-for-profit theatres located throughout New York City.
Contact Us
The American Theatre Wing welcomes your questions, opinions and concerns.
Support The Network
The Network is made possible through the generosity of our donors. Here are some ways your support could enrich this program:
$10,000 can sponsor the program for an entire season
$5,000 could pay for the annual Theatre Internship Fair
$2,500 could send these emerging theatre leaders to a Broadway show and talkback
$1,000 could underwrite a semi-annual networking mixer
$500 could sponsor a meeting, including a panel discussion and pizza dinner
A donation in any amount helps develop the next generation of theatre industry leaders
To support this program, simply click on the button below and select "The Network for Emerging Leaders in the Theatre" after you enter your name and address, or call us at 212-765-0606.