The Network for Emerging Leaders in the Theatre
It's nice to know I'm not alone in this big city!
Joshua Kelley, TIN Alum Pace University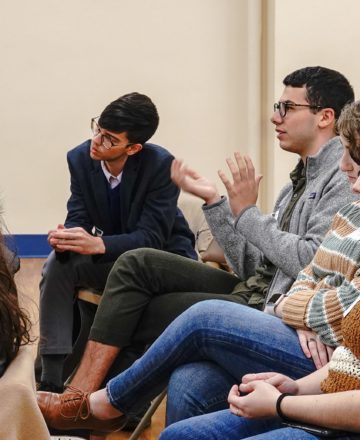 Professional and educational advancement through The Wing's expert network
About The Network
The Network provides emerging and developing theatre professionals advanced education, networking opportunities, and tools for career advancement within a supportive creative community.
New York City is full of theatre professionals, each with their own vision for creating or supporting important work. The Network connects students, interns, and young professionals to senior players, theatre companies, and prestigious organizations across the nation. Our network provides exclusive events, seminars, panels, and networking opportunities, fostering a community for building relationships with peers and professionals.
The Network is currently hosting all panel discussions via Zoom webinar.
Next Meeting: Building Your Career as a Company Manager, August 19 at 5PM ET
COMPANY MANAGERS are masters of logistics. The nature of their job requires them to wear many hats, be detail-oriented, communicate with a wide range of people, and work well under pressure.  Organizing payroll and rehearsals, arranging transportation and housing for cast and crew, and negotiating contracts are among the many responsibilities and tasks Company Managers juggle daily. If you're the type of person who loves providing essential administrative support and being around creative energy, a career in company management may be a good fit for you! Curious about the pathways to this role?  Join us as our panelists share their career advice on what it takes to be an effective company manager, and how aspiring theatre professionals can access opportunities.
Our Panelists:
Tyler Siems, Baseline Theatricals; Hamilton: Angelica Tour
Tyler Siems is a proud member of ATPAM. National Tour: Hamilton.  Broadway: Wicked; War Paint; A Doll's House, Part 2; The Glass Menagerie; The Front Page; Fun Home. Off-Broadway: Sell/Buy/Date; Vietgone (MTC). Previously, Tyler was a Crew Trainer at McDonald's, and a Voter Activation Regional Director with the Biden For President campaign in battleground Michigan during the 2020 election. Graduate of Western Michigan University.
Kimberly Shaw, Foresight Theatricals; Diana: The Musical
Kimberly Shaw is a Broadway and Touring Company Manager. Theater credits include – Broadway: Who's Afraid of Virginia Woolf, A Bronx Tale, Amelié, Fiddler on the Roof. Tours/International: The Lion King, The Hip-Hop Nutcracker, Central Avenue Breakdown (N. Korea), I Got Fired (N. Korea), Franco Dragon's India (Germany), Little Shop of Horrors.  Off-Broadway: Avenue Q, Midnight's Children (The Apollo), The Other Josh Cohen, Triassic Parq, Blind Date.  Theme Parks: Fantasmic, Indiana Jones Epic Stunt Spectacular, Finding Nemo the Musical, Festival of the Lion King.
Kimberly holds a B.A. in Theatre from Spelman College and an M.F.A. in Theatre Management and Producing from Columbia University.
Kendra Moore, Disney Theatrical Group; The Lion King
Kendra Moore is the Associate Company Manager of The Lion King on Broadway. She toured the U.S. and Canada with The Lion King for 13 years as a dancer/dance captain. She retired from the stage in May 2016 and returned in June as the Assistant Company Manager on the First National Tour before joining Broadway in the summer of 2017. She recently was one of the Executive Producer for the online event called Divas for Democracy that joined the divas of Broadway with the divas of Drag to encourage everyone to vote in the 2020 election.
Prior to joining The Lion King, Kendra danced with Ballet Austin, Les Ballet Jazz de Montreal, and Hubbard Street Dance Chicago. She has toured internationally to many countries: Asia, South America, Europe, Israel, as well as North America with all of these companies. 
She has choreographed, produced, and stage managed several benefits for Broadway Cares and other productions. Kendra is also the Co-Choreographer of The Kids and Junior Lion King Experience that is being put on by many schools across the country. As a dance teacher she enjoyed connecting with studios across the country teaching master classes and participating in outreach programs. 
Kendra works with Open Stage Project as a Program Coordinator. OSP is a nonprofit that exposes young women to backstage job opportunities. She also volunteers with the Jazz Foundation of America and the Boys Club Girls Club of America in Brooklyn. She is a Yoga devotee, certified Thai Massage therapist, real estate enthusiast, animal lover, avid reader and lifelong learner.
Jessica Fried, Pass Over, West Side Story
Jessica is currently the Company Manager of Pass Over. Previous Broadway credits include West Side Story, Gary: A Sequel to Titus Andronicus, and Meteor Shower. As Associate Company Manager: The Iceman Cometh, Oslo, The King and I, Act One, Macbeth. Off-Broadway: Pipeline, How to Transcend a Happy Marriage, The Babylon Line, Oslo, The Royale, Dada Woof Papa Hot, Shows For Days, The Mystery of Love & Sex, The Oldest Boy, The City of Conversation, Domesticated. Jessica graduated from Yale University with a degree in Psychology.
Our Moderator:
Tracy Geltman, Chief Operating Officer, Stacey Mindich Productions
Tracy Geltman joined Stacey Mindich Productions as the Chief Operating Officer in 2019, after more than 15 years as a Company Manager and Associate General Manager on Broadway.  Tracy started her career at Frankel Green Theatrical Management and went on to work at 101 Productions, 321 Theatrical Management, and Foresight Theatrical on productions that include the Tony Award-winning musicals The Band's Visit and Fun Home, along with War Paint (starring Patti LuPone and Christine Ebersole), Oh Hello on Broadway,  If/Then (starring Idina Menzel), Peter and the Starcatcher, The Addams Family (starring Brooke Shields), and Rock of Ages. Tracy grew up in New Jersey and was introduced to theatre at a young age when her family would make trips to New York City to see Broadway shows. Musical Theatre and Broadway is her passion and she feels incredibly lucky to have found her talents offstage and to be part of the Broadway community.  She is a graduate of Kutztown University of Pennsylvania and is an active member of the Associate of Theatrical Press Agents and Managers (ATPAM).  Tracy shares her life with Broadway actor Jenifer Foote.
What to Expect
The day of the meeting, you'll join a Zoom Webinar with

live captions

. Be prepared to take notes!
Only panelists will be on screen, but you'll have the opportunity to ask questions LIVE via Q&A and the chat.

Once you register, you'll receive an email from us with Zoom details.
Connect with Industry Peers
After the panel, join us for a 30-minute networking and socialization session where attendees can connect with each other. We know it's difficult to network at this moment, but we're excited to create this virtual space via Zoom breakout rooms. At the end of the meeting, we'll chat the zoom link for anyone who wants to join. Come pop in and meet fellow colleagues from around the country!
Be the first to know about future Network meetings and American Theatre Wing events:
Watch the Latest Webinar On Demand
You can watch this and past webinars, in their entirety, on our official YouTube channel.
Executive Directors are the leaders of non-profit organizations managing day-to-day operations, setting the vision, shaping the future, and steering their team to execute the mission of the organization. They must have a clear vision, implement a strategic plan, and effectively communicate that vision to their staff and Board of Directors, amongst a multitude of other responsibilities. These leadership skills aren't developed overnight, and the pathways to this role often consist of a wide range of experiences, supportive mentors, and access to tools and resources. Watch as our panelists share the insight they have gained from their unique career paths and discover what steps you can take to become a leader in arts administration!
Join the Next Virtual Webinar
The Network will be hosting panel discussions via Zoom webinar. To learn more about attending Network meetings and events, subscribe to our newsletter.
Past Network Topics have included:
Community Outreach Programming
Press & Publicity
Marketing
Immersive Theatre
Company Management
Theatre Education Programming for Schools
Development – Individual Giving
Pitch Perfect: How to Ace the Job Interview
Social Media and Audience Engagement
Producing
Working in Casting
Licensing & Theatrical Rights
New Work Development
Production Management
The Network is supported in part by an award from the National Endowment for the Arts, and by public funds from the New York City Department of Cultural Affairs in partnership with the City Council.
The A.R.T./New York Internship Fair In Partnership with the American Theatre Wing
The  A.R.T./New York Theatre Internship Fair, in partnership with American Theatre Wing, is an opportunity for students interested in a life in the theatre to meet and greet with over 60 nonprofit theatre companies in New York City. All theatre companies present at the fair are seeking interns to support their work in fields such as production, marketing, fundraising, general management, and more. While companies are offering internships for the upcoming Summer and Fall semesters, students can also find more immediate placement.
The Alliance of Resident Theatres / New York (A.R.T./New York) is the service and advocacy organization for over 350 not-for-profit theatres located throughout New York City.
Contact Us
The American Theatre Wing welcomes your questions, opinions and concerns.
Support The Network
The Network is made possible through the generosity of our donors. Here are some ways your support could enrich this program:
$10,000 can sponsor the program for an entire season
$5,000 could pay for the annual Theatre Internship Fair
$2,500 could send these emerging theatre leaders to a Broadway show and talkback
$1,000 could underwrite a semi-annual networking mixer
$500 could sponsor a meeting, including a panel discussion and pizza dinner
A donation in any amount helps develop the next generation of theatre industry leaders
To support this program, simply click on the button below and select "The Network for Emerging Leaders in the Theatre" after you enter your name and address, or call us at 212-765-0606.